Upcoming Events
A Remembrance: The Great Lakes Storm of 1913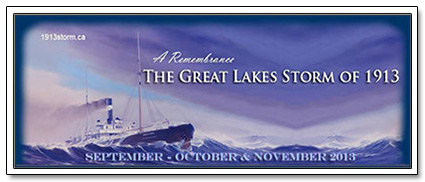 The Port of Goderich & Lake Huron Shore Communities, will honour the lost souls & ships of 'The Great Storm 1913' over an extended period in 2013.
This centenary event will commence in September, October – and will culminate in a special series of Remembrance activities, November 8, 9 and 10, 2013.
These efforts will acknowledge the lives and ships lost in the worst maritime disaster ever to hit the Great Lakes – where 19 ships were either total or constructive losses and over 260 lives were lost in one overnight 'white hurricane' that descended upon the Great Lakes on November 8 & 9, 1913. Most of the losses occurred on Lake Huron. The Great Lakes Carriers' Association set up recovery operations and conducted its major post-tragedy investigations in the Port of Goderich following the storm.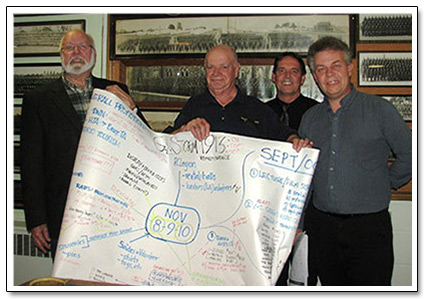 Above Photo: The core planning committee for the commemorative events for the Great Storm 1913 Remembrance announced details for the 2013 centenary this week. Shown here are (L-R), Warren Robinson, playwright and liaison for the Great Storm musical drama that will be mounted as a travelling show; Norman Leddy, Chair Ways & Means Committee for the Royal Canadian Legion, Branch 109, which will host the culminating events; David MacAdam, Chair of the planning team; and, David Yates, liaison representative for the Town of Goderich and the Municipal Heritage Committee. These members have just completed a review of a complex visual planning sheet to show the inter-connected schedule of events that run over a three month period from September through November next year.
In the local community, a speakers and presentations series is scheduled for successive Thursday evenings at the Huron County Museum theatre, commencing September 19th. A combination of lecture and media presentations will be offered for a nominal 'passport' admission price. Meteorologist Jay Campbell, formerly of CFPL and its successor TV stations will present his interpretation of the horrific weather bomb that led to the maritime disaster. Local speakers will also address aspects of Goderich Harbour history through to Great Storm events themselves.
Similar undertakings are in the works for communities north and south along 'Ontario's West Coast', where the Bruce County Museum and Cultural Centre, the Lambton County Museum, and the museums in Sombra and Mooretown will also offer a combination of presentations, displays and commemorative events. The core committee has also met twice to date with a parallel group from the Port Huron Museum, which is also planning major events along the American shoreline.
The participation of local & regional historical societies and marine heritage groups has been confirmed. It will truly be a regional event.
All three floors of the local branch of the Royal Canadian Legion are being transformed into a gathering place for November 8th and 9th, for education, heritage and maritime industry and marine job training displays and presentations. The general public is encouraged to attend at all times. Friday will be a 'student and school' day with special transportation support available to move students to and from schools from across the district. Plans are being devised for a shuttle bus system to run throughout the area to assist seniors and those in retirement homes to visit the displays and participate in the gatherings.
Above Photo: [The Last Sighting – cover image of the Str. WEXFORD Courtesy Captain C.E. Bud Robinson]
Discussions are underway with the Goderich Co-op Gallery and with Elizabeth's Art Gallery to see how they can combine to host an exhibit of Captain C.E. 'Bud' Robinson's well-known marine art, along with a photographic exhibit of heritage images from the Great Storm 1913 era. The planning committee has been given access to the renowned 'Patrick Labadie' marine heritage photograph collection held at the Alpena Public Library, in Alpena, Michigan, for use during the events.
Visitors are expected from across the Great Lakes basin, and, a number of descendants of sailors lost in the storm have been invited to join in the remembrance. The Town has invited the Lieutenant-Governor to be part of the memorial tribute.
It is hoped that the community can combine on Sunday, November 10, to honour the lost sailors in a massive inter-denominational church service, not unlike that held in 1913 following the tragedy. Opening and closing ceremonies will be held at the Ontario Heritage Sites plaque to the Great Storm, overlooking the harbour at Cobourg Street, and, at the monument to the unknown Sailors at Maitland Cemetery.
A permanent memorial in the form of a large, marine-themed metal sculpture is being commissioned from local metal artisan and blacksmith, Jim Wallace. Community input from young and old will be solicited to help finalize the design. It is hoped that this monument can be placed at a prominent location on a bluff overlooking the lake. It will carry a suitable plaque commemorating the 100th anniversary gatherings.
A real highlight of the October/November events will be the Great Storm musical drama, written and directed by Warren Robinson, with music and choreography under the direction of Eleanor Robinson. Negotiations are under way to confirm where the play can be presented not only in Goderich, but also in Lambton, Bruce, and, in Port Huron at a major venue there.
The combined events are expected to attract several thousand visitors to the lakeshore communities with a major number making a stop for the culminating events in Goderich.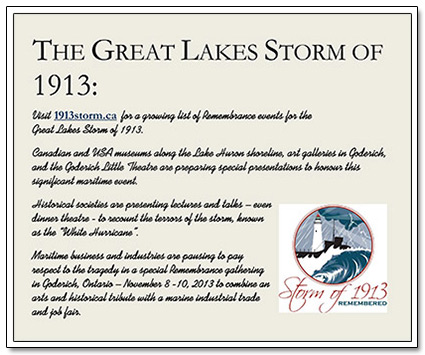 Brochure:

Click here to open a printer friendly brochure '1913 Great Lakes Storm Remembrance' in Adobe PDF format.
Social Media:

Click here to read and contribute to discussions about the '1913 Great Lakes Storm Remembrance' on Facebook.
For more information:
For an updated list of events, times, and locations check out the primary website at www.1913storm.ca or email the planning committee at for general inquiries.
Core Planning Committee Contact Information:
Captain David MacAdam: CHAIR MacDonald Marine / Mariner Solutions:
Captain Ian MacAdam: MacDonald Marine / Harbour Master:
Colleen Maguire: SECRETARY & Co-chair of Knox Mariner Service:
Mac Campbell: TREASURER Huron County Historical Society:
David Yates: Town Of Goderich (Town Councillor – Liaison Member):
Dennis Schmidt: Royal Canadian Legion, Br. 109:
Maurice Wilkinson: Retired Ship's Officer / Historian:
Paul Carroll: Author / Historian, alternate rep – Royal Canadian Legion, Br. 109:
Please contact Paul Carroll for more information about the general 1913 Great Lakes Storm Remembrance Media Release, or for Great Storm images.
United States Group Liaison:
Charley Bird 586-567-9083 Videographer / Author: Port Huron Group & Liaison – Chatauqua events planner:

Page Top