Huron County Historical Society - Member Publications
~ For the Love of Bayfield

Author Dave Gillians writes:

I never intended to write a book, especially a history book which should be carefully indexed with annotations and thorough references.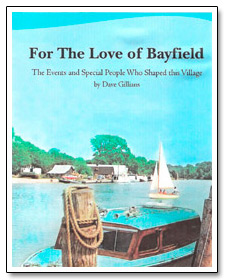 I just kept coming across stories and special individuals who shouldn't be forgotten, and over a period of six years my essays blossomed into a book.
Although I wrote about special individuals and stories that are unique to Bayfield, I believe that there is a universality about the quiet heroism of ordinary people who overcome extreme hardships. Instead of leading lives of quiet desperation and just accepting survival as success, they persevere, they overcome seemingly insurmountable obstacles and through their leadership, determination and values, they help shape their environment for future generations.
The same types of tales can be told in towns and villages all over the world. It's about the people who leave a lasting legacy! Recognizable footprints for future generations to follow.
'For the Love of Bayfield' is now in its third printing and all of the net proceeds from the sale of the book are being used to further the mission of the Bayfield Historical Society.
The book can be purchased from The Village Bookstop, 20 Catherine Street, Bayfield, ON N0M 1G0. Price $35.00
Contact Info: 519-565-5600
Page Top