Huron County Historical Society - Member Publications
~ From Log Cabin to Mansion: The story of Joshua Tennant
by Janis (Morritt) Vodden
A publication of the Repository of Blyth History. 54 pp. Soft cover.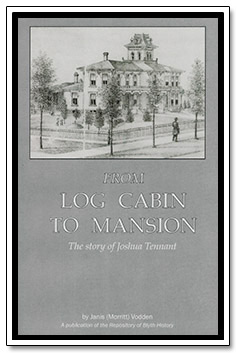 From a Log Cabin in Lanark County to Blyth in Huron County to Carson City Michigan, from village school teacher to a respected and wealthy physician, these are the milestones of the life of Joshua Tennant. A new book by Janis (Morritt) Vodden depicts the trials and the triumphs of this man and his family through the last half of the 19th century. Despite his life's deep sorrows, Joshua dedicated himself to alleviating such sorrows for other people through the practice of medicine. Joshua's family lost track of him when he and his young wife moved first to Huron and then to Michigan, and his Michigan progeny knew little of his sojourn in Huron until this little book pulled the disconnected pieces together.

Ms. Vodden and a small group of dedicated researchers from Canada and the United States combined their efforts to bring Joshua's story to light, and a fortuitous contact with Joshua's great grandson capped the project with first hand accounts and tangible artifacts of Joshua's.

Available from The North Huron Citizen in Blyth 519-523-4792, or from the author at . Price $10.00 plus S&H

Page Top