Huron County Historical Society - HCHS 2003 Notes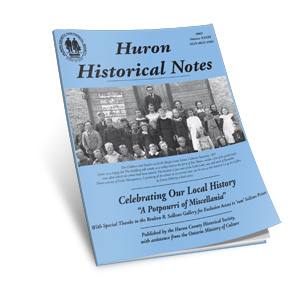 HCHC 2003 Notes Index (Volume XXXVII)
Front Cover - Celebrating Local History

"A Potpourri of Local Miscellania"

Inside Cover - "The Old Naftel House"

Journal Page from December 17 - 31, 1878

Editors Notes & Warden Greeting (Page 01)
FROM HURON COUNTY - WALT DISNEY & His Family Tree (Page 02 - 06)
THE MCGAVINS OF WALTON – Of Plowing Match Fame! (Page 06 - 10)
Local School History (Page 10 - 11)
Alice Munro Writer & Literary Garden (Page 11)
Short Stories (Page 12 - 15)

Gold in Bayfield? C'mon Now!
JENNIE SMILLIE ROBERTSON - Canada's first woman surgeon
CHARLES TRICK CURRELLY (1876-1957) - Pioneer Egyptologist
DR. J.E. THOMPSON - Chief Geologist
Belgrave Church Closing
Doris McCall unveils a plaque in husband Bruce McCall's honour...
William C. Thuell memorial plaque
Bluevale United Church memorial plaque

Photos and Sketches (Page 16)

"The Ark" An unusual steam-powered Sailing Vessel
A TWO-CYLINDER DOTY ENGINE
The W.L. Forrest with Steam Dredge in tow...

Saving Our Local Architectural Heritage (Page 17)
THE OLD NAFTEL HOUSE - 1876 (Page 18)
The MiniMac - The Sailing Tender Built By The ROSNY Corporation (Page 19)
2002 Marks The Centennial of Wescast Industries Inc. (Page 20)
THE NATIONAL IRON WORKS – 1901 (Page 21)
Ontario 4H Clubs Celebrate 50TH Year in 2002 (Page 23)
Reuben R. Sallows "CANADA'S PHOTOGRAPHIC GENIUS" (Page 24 - 26)
Reuben R. Sallows - Use of photography as a Historical Source (Page 26 - 28)
Huron County Historical Society Annual Report (Page 28)
Back Cover - Photo - The J. T. Wing Vessel in Goderich Harbour

Click here for a printer friendly copy of the HCHS Notes 2003-2009 Companion Index in Adobe PDF format.

Members download the 2003 HCHS Notes by clicking here. Learn about becoming a member or login to the member area.

To improve user experience, the 2003 HCHS Notes are now searchable and readable online for current HCHS members.
GREETINGS FROM THE WARDEN OF HURON COUNTY

Dear Friends in the Huron County Historical Society,

Your members, more than other citizens, will be aware of the history of changes in local
government and its structure over the generations. As we settle into this new era of
amalgamations, I am reminded of the earlier efforts to re-structure local government,
which go back as far as the 1840s in the old Huron District.

You may recall, for example, that we were required to construct our own government
building, and a jail, before Canada West would permit the Huron District to set up its own local governance. Our Historic Gaol was the result of that effort – and was the site of our first Huron District Council meetings.

Today, as we settle in to the new structure for Huron County Council, and the re-structured local municipalities, there are changes in roles and responsibilities yet again. Your elected representatives struggle to sort out who does what, and who ultimately pays the bill. There is much discussion and considerable debate on some issues.

In the midst of all this change, the role for 'volunteers', such as you, becomes even more important. If one thing is clear, it is that governments cannot do all things for all people. Volunteers are sorely needed to fill in some critical gaps. Whether it is at the local hospitals, the area recreational facilities, local cultural programs, or the archives and the museum, volunteers play a critical role.

I offer my appreciation, on behalf of your Huron County Council, for your diligence in safeguarding our heritage through your ongoing efforts. The production of these annual notes is but one good example of your volunteer legacy.

Sincerely,
Dave Urlin, Warden 2003
Page Top