Huron County Historical Society - HCHS 2005 Notes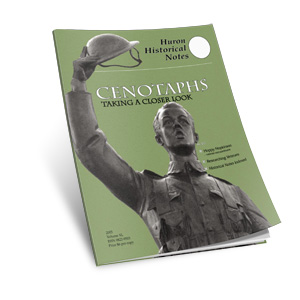 HCHC 2005 Notes Index (Volume XL & XXXIX)
Cenotaphs of Huron County


Bayfield (Page 3)

Blyth (Page 3)

Brussels Morris and Grey (Page 6)

Clinton (Page 7)

Exeter (Page 8)

Fordwich (Page 10)

Goderich (Page 10)

Hensall (Page 12)

Seaforth (Page 14)

St. Helen's (Page 15)

Usborne (Page 17)

Wingham (Page 19)

Wroxeter (Page 20)

Varna (Page 20)


161st Swept Overseas (Page 21)

Local Researcher Digging Into 161st (Page 21)

In Search Of Our Veterans (Page 22)

Nursing Sister Signs Up (Page 23)

Officer Succumbs To White Plague (Page 24)

Hoppy Hopkinson, Entrepreneur

Extraordinaire (Page 27)

Cairns, Silent Sentinels (Page 31)

News Clips for 2005 (Page 32)

Index of Huron Historical Notes 1990-2003 (Page 35)

Click here for a printer friendly copy of the HCHS Notes 2003-2009 Companion Index in Adobe PDF format.

Members download the 2005 HCHS Notes by clicking here. Learn about becoming a member or login to the member area.

To improve user experience, the 2005 HCHS Notes are now searchable and readable online for current HCHS members.
GREETINGS FROM THE WARDEN OF HURON COUNTY

Dear Friends in the Huron County Historical Society,
On Tuesday, December 7th, 2004 the Reeve of North Huron, Doug Layton was acclaimed Warden. Outgoing Warden Bill Dowson of Bluewater placed the Chain of Office on the new Warden's neck, presented the Ceremonial Key of Office, the Warden's Pin and a gavel to him. Warden Doug Layton is the 137th person to serve as Warden of Huron County.

Born and raised in Tuckersmith Township on a farm between Clinton and Brucefield, his roots run deep in Huron County. Doug Layton went to Wingham where he operated a furniture business and works in partnership in the funeral home business. As a well-known and respected business person and active community member, he has been a familiar face on Main Street Wingham for over 35 years. Married for forty years, he and his wife Marilyn have two married children and four grandchildren. Son Jeff and his family live in Wingham, while daughter Jennifer and her family reside in Bryanston. He served as Councillor for the former Ward of Wingham, was the first Reeve of North Huron and served on County Council for six years. Warden Layton, often accompanied by his wife Marilyn, attended many events during his term as Warden.

"It is a great honour and pleasure to have served as Warden and I enjoyed every moment of it. Getting around the County, meeting the great people of Huron County and working with the County staff was very rewarding. I will always remember the special celebrations that marked the 60th Anniversary of Victory in Europe Celebration and fondly recall the ceremony to mark the Liberation of Holland by the Dutch people to show their gratitude again to Canadians.

As a person who has always had an interest in the history of North Huron and throughout the County, I offer best wishes and thanks to the Huron County Historical Society for your continued work in telling our story."
Page Top