Huron County Historical Society - HCHS 2006 Notes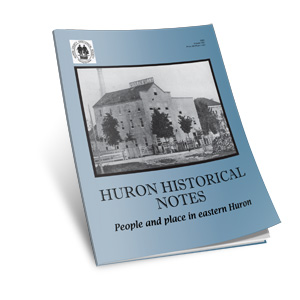 HCHC 2006 Notes Index (Volume XLI)
Opening Message (Page 1)

Introduction (Page 2)

Seaforth (Page 3)

Town Hall (Page 5)

Box Furniture (Page 6)

Cardno Block (Page 70)

Canadian Imperial Bank of Commerce (Page 8)

Sills Home Hardware (Page 9)

Kidd Block (Page 10)

Nifty Corners (Page 10)

Lorne Villa Mansion, Seaforth (Page 11)

Egmondville (Page 12)

Van Egmond House, Egmondville (Page 12)

Egmondville United Cemetery (Page 13)

Egmondville United Church (Page 14)

St Andrew's United Church, Kippen (Page 15)

Brucefield (Page 15)

Brucefield United Church (Page 15)

Ross Free Presbyterian Cemetery (Page 16)

Harpurhey (Page 16)

Harpurhey Cemetery (Page 17)

Roxboro (Page 17)

Leadbury (Page 18)

Winthrop (Page 19)

Cavan Church (Page 20)

Manley (Page 20)

Walton (Page 21)

Walton Inn (Page 21)

Brussels (Page 22)

Graham Block, Brussels (Page 24)

Oldfield Hardware Store, Brussels (Page 25)

Carnegie Public Library, Brussels (Page 26)

Leckie-McRae-Hoy House, Brussels (Page 27)

Jamestown (Page 28)

Molesworth (Page 29)

Ethel (Page 30)

Mount Pleasant Cemetery (Page 30)

Cranbrook (Page 31)

Knox Presbyterian Church and Cemetery (Page 31)

Henfryn (Page 32)

Moncrieff (Page 32)

Beechwood (Page 33)

Dublin (Page 34)

Zion United Cemetery (Page 34)

Vanastra (Page 34)

Click here for a printer friendly copy of the HCHS Notes 2003-2009 Companion Index in Adobe PDF format.

Members download the 2006 HCHS Notes by clicking here. Learn about becoming a member or login to the member area.

To improve user experience, the 2006 HCHS Notes are now searchable and readable online for current HCHS members.
Message from HCHS President 2006
This edition of Notes is two years late, due in part to the tyranny of the urgent. Over the span of five years, it seems all the towns and villages in Huron County have been preparing for their 125th anniversaries, many of them arranging for local histories and updates. Our resources truly became stretched. To the fans of Historical Notes and to new readers, our apologies and our hope that this edition was worth the wait.

Huron County Historical Society was begun in 1924, ceased meeting in the thirties – "it lived briefly but died of neglect" according to Gavin Green, a local wag at the time. It was reborn in 1964 under the guidance of Susan Muriel Mack, librarian of the Crediton Public Library and strong supporter and contributor to the Womens' Institute movement. She became the Society's first 1960's president. In 1965, the first edition of Historical Notes was published and its annual appearance is anticipated by the Society's stalwarts and supporters. This is the 41st edition.

All is well with the Society, but as with most other volunteer groups, it needs membership and leadership invigoration periodically. Our general meetings are lively and informative with quality speakers and presentations of local historic interest. The 2006 council was composed of the following dedicated volunteers to whom the Society owes a round of thanks. Past-chair Deb Bauer, secretary Nancy Hughes, treasurer Mac Campbell, Notes editor Rhea Hamilton-Seeger, archivists Isobelle Bissonnette and Ted Turner, memberships Elaine Snell, councillors David Armstrong, Glen Gardiner, Brock Vodden, and Rosalind
Ward.
If any of you have queries about the Society or archives, please use the current information on the contact HCHS page.
Ralph Laviolette, Chair 2006-2008
Page Top