Huron County Historical Society - HCHS 2007 Notes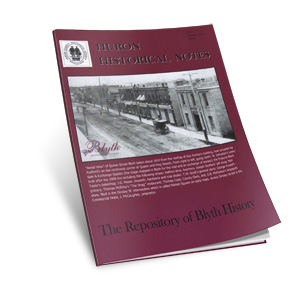 HCHC 2007 Notes Index (Volume XLII)
Repository of Blyth History (Page 2)

Of What Use is Such a Repository? (Page 4)

How the Repository of Blyth History Grows (Page 5)

Another Teacher in Early Days – Geo. Quinn (Page 7)

Village of Drummondsville Becomes Blyth 1877 (Page 8)

Blyth to Portage la Prairie, MB (Page 9)

Gair-McBain Family (Page 9)

Coombs-Ellis Family (Page 10)

Another Blyth-Deloraine, MB Resident – Petch (Page 12)

Wait a Minute Blyth, You Can't Do That!


Blyth Becomes a Two-Railway Town (Page 13)

Blyth Memorial Hall & Festival Theatre (Page 17)

More Than a Building by Fred Sloman (Page 18)

County Registry Office (Page 20)

The Rutabaga Man (Page 20)

Blyth & District Community Centre (Page 21)


Newspaper Clippings (Page 21)

The Blyth Constabulary and Jail (Page 25)

Pretoria Block (Page 26)

A Grocery Store on Wheels by "Pat" Powell (Page 27)

The Ice House by "Pat" Powell (Page 29)

"Reflections" by Amy MacCrostie (Page 30)

Fire and Firefighting in Blyth (Page 30)

Blyth Fire Dept. 1930 (Page 32)

Random Reminiscences - a poem (Page 34)

Secondary References (Page 34)

Photo Gallery of Blyth Pictures (Page 35)

Pilot Lorna Bray deBlicquy Hails from Blyth (Page 42)

Sources of Information (Page 42)

Names on the 1877 Assessment Roll (Page 43)

Page from County of Huron Directory (Page 44)

Our Search Engine Makes all the Difference (Page 45)

Why a Community Needs a Repository of History (Page 45)

Click here for a printer friendly copy of the HCHS Notes 2003-2009 Companion Index in Adobe PDF format.

Members download the 2007 HCHS Notes by clicking here. Learn about becoming a member or login to the member area.

To improve user experience, the 2007 HCHS Notes are now searchable and readable online for current HCHS members.
Message from HCHS President 2007

How often does curiosity about family and village roots turn into a hobby, then a passion, then a repository? In this case, over 80 binders of information about individuals, families, homes, places and related memorabilia are the result. This edition of Notes features The Repository of Blyth History as its creators, Brock and Janis Vodden, termed their oeuvre.

The Voddens share stories from the Repository and explain why more towns and villages should build their own Repository of local history. Thanks to them for writing and sharing the stories and to Notes researcher/writer Dianne Smith for editing and page layout.

The Society owes a round of thanks to the dedicated volunteers who sat on the 2007 council: President Ralph Laviolette past-chair Deb Bauer, secretary Nancy Hughes, treasurer Mac Campbell, Notes editor Rhea Hamilton-Seeger, archivists Isobelle Bissonnette and Ted Turner, memberships Elaine Snell, councillors David Armstrong, Glen Gardiner, and Brock Vodden.

If any of you have queries about the Society or archives, please use the current information on the contact HCHS page.
Ralph Laviolette, Chair 2006-2008
Page Top