Huron County Historical Society - HCHS 2008 Notes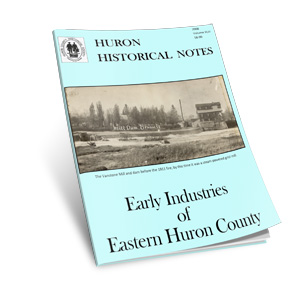 HCHC 2008 Notes Index (Volume XLIII)
Industry Begins with Agriculture (Page 2)

The Importance of the Railway (Page 5)

Agriculture (Page 6)

Sawmills & Planing Mills (Page 10)

Early Sawmills in the County (Page 10)

Grist & Flouring Mills (Page 14)

Woollen Mills (Page 20)

Tanneries (Page 23)

Foundries (Page 25)

Brick & Tile Yards (Page 30)

Lime Works (Page 32)

Flax Mills (Page 33)

Salt (Page 36)

Bibliography (Page 41)

Click here for a printer friendly copy of the HCHS Notes 2003-2009 Companion Index in Adobe PDF format.

Members download the 2008 HCHS Notes by clicking here. Learn about becoming a member or login to the member area.

To improve user experience, the 2008 HCHS Notes are now searchable and readable online for current HCHS members.
Message from HCHS President 2008
When we did research on people and places in the eastern part of Huron County (see the 2006 edition of Huron Historical Notes), thanks in part to all those 125th anniversary events and Doors Open preparations, we could not help but note the rich history of entrepreneurship and business smarts of those who have gone before and the myriad of business endeavours that sprung up in this area. And so came about this edition featuring Early Huron Industry – Part 1. Our thanks to the Huron East Chamber of Commerce and the Huron East Heritage Conservation Committee for much source material, and to researcher/writer Dianne Smith of Egmondville for her work.

A future edition, Early Huron Industry - Part 2, is in preparation. It will focus on fishing and other industries in areas closer to the outlets of the Maitland, Bayfield and Ausable rivers into Lake Huron.

The future bodes well for the Society. The 2008 council was intent on continuing the catch up to bring our Historical Notes publications up to date.

Council members were: Ralph Laviolette, president; David Armstrong, vice-president; Nancy Hughes, secretary; Mac Campbell, treasurer; Deb Bauer, past-chair; Isobelle Bissonnette and Ted Turner, archivists; Elaine Snell, memberships; Rhea Hamilton-Seeger, Glen Gardiner, and Brock Vodden, councilors; and Deb Bauer, past-chair. Secretary Nancy Hughes resigned mid-year and we shall miss her wisdom and enthusiasm.

We were sustained by membership fees and a small grant from the Ministry of Culture. Our listing and membership in the Huron Tourism Association generates many queries for information on people and places in Huron.

If any of you have queries about the Society or archives, please use the current information on the contact HCHS page.
Ralph Laviolette, Chair 2006-2008
Page Top