Huron County Historical Society - HCHS 2010 Notes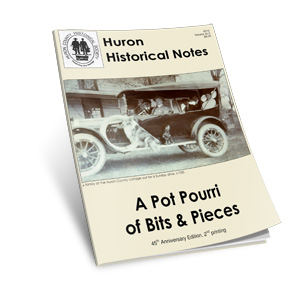 HCHC 2010 Notes Index (Volume XLV)
Introduction (Page 1)

Foreword from the inaugural 1965 Notes Edition (Page 2)

Before 911 numbers (Page 2)

Things Bygone - 1940s Bayfield (Page 3)

Saga of the National Iron Works in Wingham (Page 4)

Who is that man? (Page 6)

Apostle Huron County – Reverend Peter Schneider (Page 7)

Ball's Bridge revived (Page 8)

A family history – Seeger (Page 9)

Tribute - Ernest Russell Snell (Page 10)

Kalbfleisch of Zurich – 100 Years In Lumber (Page 11)

Where Bayfield Lay (Page 12)

Goderich – A Brief History circa 1964 (Page 12)

Auburn – my village (Page 15)

The Armstrongs and Boyds of Early Huron (Page 16)

Dr. Pierce's Pleasant Pellets (Page 17)

Down to the Sea in Ships (Page 18)

The Story of Worsley and the Nancy (Page 19)

The Story of Roxboro (Page 21)

Ben Spencer's old sow (Biddy) and other tales (Page 22)

Was Paul Bunyan a local boy? (Page 23)

Currelly - Famous Curator from Huron (Page 24)

The Humble Rag (Page 25)

Port believed site of munitions plant (Page 26)

Stories cemeteries tell (Page 27)

Society objectives (Page 28)


Click here for a printer friendly copy of the HCHS Notes 2003-2009 Companion Index in Adobe PDF format.

Members download the 2010 HCHS Notes by clicking here. Learn about becoming a member or login to the member area.

To improve user experience, the 2010 HCHS Notes are now searchable and readable online for current HCHS members.
Message from HCHS President 2010
Greetings to all members and friends of the Huron County Historical Society! Welcome to this 45th annual edition of Huron Historical Notes. As you will see, this year's Notes is comprised of items of interest from a wide variety of Huron County perspectives. We are most appreciative of the suggestions and contributions from our Society members and friends. In particular we extend our thanks to Notes editor Ralph Laviolette who has
devoted many, many hours to this publication. Its high quality content and appearance may be attributed to this exceptional effort.

2010 promises to be another busy year for our Society. At the time of writing, general meetings are being planned for April 21st (Seaforth) and June 16th. In addition, the Annual
General Meeting is planned for Wednesday, May 19th. For the fall we have plans for the third Wednesday evenings of September, October and November. Details of these meetings and other plans for the Society will be sent out in the regular newsletters. As always, many thanks are extended to all of our wonderful presenters and the organizers for these interesting and informative sessions. I am always amazed at the amount of historical information and the diligence evident in presentations from our members and others.

During 2010 the Society will also be involved in at least two interesting and ongoing
projects. The first relates to an effort begun several years ago to identify, create and install a series of bronze plaques, each of which commemorates a significant person, event or location in Huron County history. It is our intention to continue the type of plaque that may be seen honouring J. Herbert Neill at the Huron County Museum in Goderich and at the Wroxeter Cemetery. Our goal is to work with Huron County partners to identify worthy subjects at locations across Huron County. On another front, the Society is taking a leadership role with a group of interested parties in addressing the continuing need for archival storage of historical artefacts and documents. This project will likely gain focus this year and may well extend into a multi-year endeavour.

For 2010 the Executive Council is composed of the following dedicated volunteers:
President David Armstrong, Past President and Secretary Ralph Laviolette, Treasurer Mac Campbell, Membership Chair Elaine Snell, Archivists Isobel Bissonnette, Rhea Hamilton-Seeger and Ted Turner, and Councillor Brock Vodden. The Executive Council will be meeting on at least five occasions during the year. If you haven't already book marked our website, you will likely want to check it out: www.huroncountyhistoricalsociety.ca.

The meetings, activities and projects of our Society are funded through membership fees and special grants.

If any of you have queries about the Society or archives, please use the current information on the contact HCHS page.
David Armstrong, President 2010
Page Top