Huron County Historical Society - HCHS 2011 Notes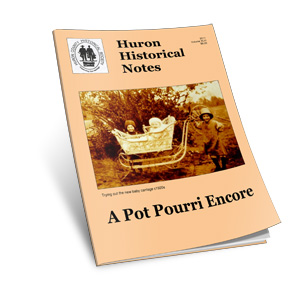 HCHC 2011 Notes Index (Volume XLVI)
President's Message (Page 1)

Introduction (Page 2)

Contents (Page 2)

Voyaging by Sea to Canada in 1851 (Page 3)

Our country school (Page 7)

A short sketch of the German Element in the Townships (now Wards) of Stephen, Hay and Stanley (Page 10)

Reid and Disney Families (Page 17)

Rail fences (Page 17)

Narcisse N. Cantin (Page 20)

William Nicol Cresswell (Page 20)

Plank Bridges (Page 22)

Hillgreen – A Hamlet of the Past (Page 22)

The Story of Clinton (Page 24)

About the Name Goderich (Page 26)

You Can't Sell Off an Empty Wagon (Page 27)

The Story of the Boats (Page 29)

Beautiful Old Wood Barns are Fast Disappearing (Page 31)

Chivarees (Page 33)

Membership in the Society (Page 35)

Our Objectives (Page 35)

Membership Benefits (Page 35)

Enquiries (Page 36)

Message from HCHS President 2011
Welcome to the 46th annual edition of the Huron Historical Notes. Since 1965 these
publications have helped to maintain a record of significant events and everyday life Huron County through its years.

Since its beginnings in 1924, It has been an objective of the Huron County Historical
Society to "preserve the history of our County and its people, and to stimulate interest in our local history". The yearly production of Notes, begun in 1965, represents an important strategy in achieving this goal. The entire collection of issues represents a most valuable resource for history buffs and researchers alike.

As you will see, this edition is comprised of items of interest from a wide variety of Huron County perspectives. We are most appreciative of the suggestions and contributions from our Society members and friends. In particular we extend our thanks once again to Notes and newsletter editor Ralph Laviolette who has devoted many hours to this publication. Its high quality content and appearance may be attributed to this exceptional effort.

Thus far, 2011 has been another busy year for our Society. General meetings have been held on April 20th (St. Joseph) and June 15th (Brussels). In addition, the Annual General Meeting was held on Wednesday, May 18th (Wroxeter). For the fall we have plans for Wednesday, September 21st (Bayfield) and October 19th (possibly in Wingham) and November 16th (TBD). Details of these meetings and other plans for the Society will be sent out in the regular newsletters. As always, many thanks are extended to all of our wonderful presenters and the organizers for these interesting and informative sessions. I am always amazed at the amount of historical information and the diligence evident in presentations from our members and others.

This year we are continuing to develop two interesting projects. In each case we are working with other Huron County partners. The first relates to an effort begun several years ago to identify, create and install a series of bronze plaques, each of which commemorates a significant person, event or location in Huron County history. On a second front, we are continuing to work with a group of interested parties in addressing the continuing need for archival storage of historical artefacts and documents. It is our goal to finalize the report from this group and get it into the hands of decision-makers before the end of the year.

In addition to our efforts, the Huron County Historical Society wishes to congratulate other groups on the achievement of highly noteworthy successes in 2011: to the Friends of Ball's Bridge on the placement of an historic plaque and completion of the beautiful new gate posts; to the St. Joseph & Area Heritage Society on the huge success of the outdoor play, Narcisse, to the Bayfield Historical Society on its successful summer play Murder at the Albion and to the Huron County Museum and Archives on its 60th Anniversary.

For 2011, the Executive Council includes the following dedicated volunteers - President
David Armstrong, Past President/Secretary Ralph Laviolette, Treasurer Mac Campbell,
Membership Chair Elaine Snell, Archivist Rhea Hamilton-Seeger and Councillors Pam Stanley and Brock Vodden. This year we have had to accept with regret the resignations of two long-standing Executive members - Isobel Bissonnette and Ted Turner. Their contributions through many years have been invaluable. The Executive Council meets on at least five occasions during the year. If you haven't already book marked our website, you will likely want to check it out: www.huroncountyhistoricalsociety.ca.

The meetings, activities and projects of our Society are funded through membership fees and special grants.

If any of you have queries about the Society or archives, please use the current information on the contact HCHS page.
David Armstrong, President 2011
Page Top