Upcoming Events
HURON COUNTY HISTORICAL SOCIETY ON FACEBOOK
Click here to visit the HCHS Facebook page for event updates and posts about local heritage and history from Huron County.
NEXT MEETING UPDATES: EVENTS AFFECTED BY COVID-19
We are planning for our on site autumn meetings with the following line up (COVID permitting of course). More details to come.
UPCOMING ZOOM VIDEO CALLS:
January 12, 2022 at 7 p.m. Zoom Online Presentation
The Guelph Museums video presentation of John Galt and the Instant City a live musical theatre event.
For further details refer to your last newsletter.
For getting the zoom link for January 12, 2022, 7 pm, all interested should email hchs1965@gmail.com to be notified of the login details.
Rhea Hamilton Seeger
November 3, 2021 @ 7:00 p.m. Zoom Online Presentation
Inviting Huron County Historical Society to join us.
Join David Yates sharing stories from his book "That Freedom Might Survive"
The pre-registration link is https://us02web.zoom.us/meeting/register/tZ0udumrqTovG9ze1QWCtpGISDeVLSX9HJ0R
This free webinar is open to anyone.
Deb McAuslan
Chair, Huron County Branch,
Ontario Ancestors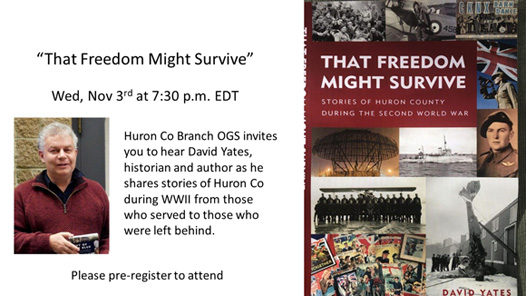 ---
October 20, 2021 @ 7:00 p.m. Zoom Presentation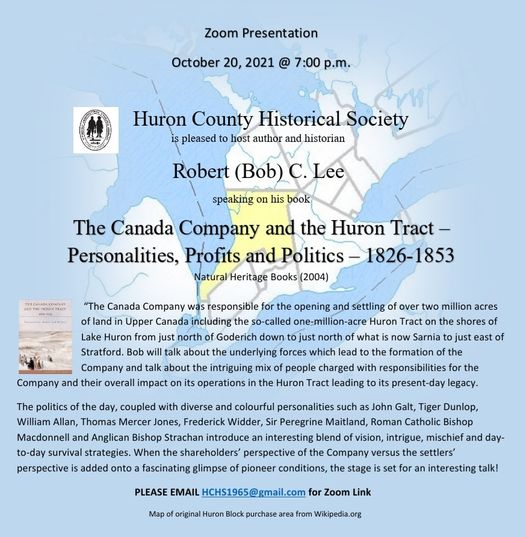 Please email hchs1965@gmail.com for Zoom link...
---
Huron Branch OGS Webinar - Please join us on Wed, Oct 6th at 7:30 p.m. EDT
"Female Preachers of the Bible Christian Church" presenter Jim Bowen.
Pre- register for this Zoom webinar at
https://us02web.zoom.us/meeting/register/tZwvc-6sqTItEtx5FDSP9mdKv60rg3W4-b4i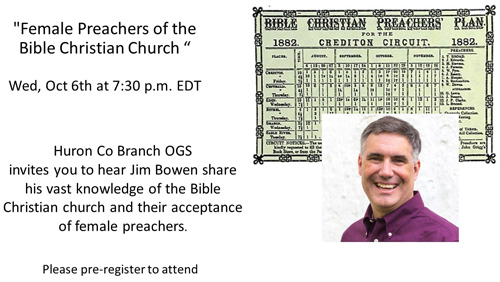 Jim's focus has been on the origins and history of the 19th century evangelical Methodist sect, the Bible Christian Connexion, with a specific interest in the stories of the female itinerant preachers. This research path has led him to Huron County, as he has explored the lives of his maternal ancestors.
Deb McAuslan
Chair, Huron County Branch,
Ontario Ancestors
---
September 15, 2021 at 7 p.m. EDT
Huron County Stone Gardens

Liz Sangster will present a summary of research done during the past year on cemeteries in Huron County. As a local historian, master gardener, student of art history and author, Liz has a unique ability to describe many facets of how the lives of Huron County residents have been commemorated. Liz is fluent in the language of flowers, symbolism, and the Victorian cult of the dead. By contrast, Liz's sister, Pam, is a geoscientist and dimension stone expert who addresses the physical aspect of the cemetery in the landscape.
Initially, the goal of the study was to provide a more robust understanding of these sites from a heritage perspective. Plans were to provide guidelines on a standard approach to documenting sites. As work progressed, some plans were modified to accommodate COVID restrictions to data. References, resource materials and suggestions for future study will be provided. Liz and Pam continue to work on their project.
For getting the zoom link for Sept 15, 7 p.m., all interested should email hchs1965@gmail.com to be notified of the login details.
---
HCHS FILM SOCIETY proposal:
Over the past few meetings, the Society's Directors have considered forming a Film Society section and would like your input as members. The proposal involves a film evening to be held once a month, by Zoom conferencing until COVID permits live meetings, then at the Goderich Museum.
Please contact James White at 519-821-5096 if you want further information. Attendance will be by invitation using email addresses. If you wish to join this first, free evening Zoom presentation on April 22 at 7:00pm, please email your request for the Zoom link to hchs1965@gmail.com.
More information is available in the March HCHS newsletter linked below.

Click here to download the March 2021 Newsletter in PDF format.
FUNDRAISING - HURON COUNTY HISTORICAL SOCIETY
SUPPORT THE HURON COUNTY HISTORICAL SOCIETY
LOCAL HISTORY BOOKS FOR SALE
We have been offered some more books to sell with proceeds to the Huron County Historical Society. Bonnie Sitter is generously looking after this project, with delivery terms and collection.
She can be reached via email bonnie.sitter@gmail.com Make an offer!
PURCHASE BACK COPIES OF THE HCHS NOTES
Back copies of The Historical Notes can be purchased from – Finchers and The Book Peddler both of Goderich, North Huron Citizen in Blyth, The Book Barn off Hwy 86 between Wingham and Whitechurch, The Village Bookshop, Bayfield and Bayfield Archives.
Copies of recent past Historical Notes are also available from Elaine Snell please phone at 519-523-9531 (past copies $8.00 per copy).
MEMBERSHIP DUES
Renewing and New Memberships may be easily paid by e-transfer. Contact us at hchs1965@gmail.com to arrange.
To view the current HCHS member brochure click here.
PURCHASE JACK MCLAREN NOTECARDS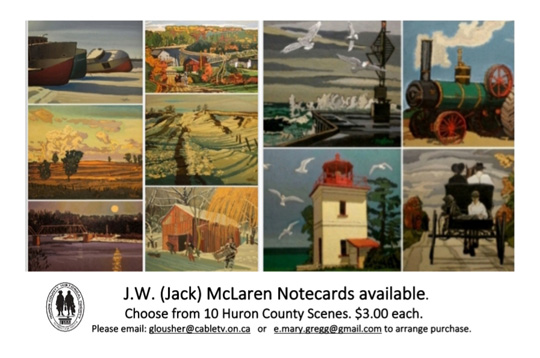 Please email glousher@cabletv.on.ca or e.mary.gregg@gmail.com to arrange purchase. Choose from 10 Huron County Scenes. $3.00 each.
Reflections: The Life and Works Of J.W. (Jack) McLaren
October 8th 2020 to April 30th 2021
For current Huron County Museum hours please visit:
https://www.huroncountymuseum.ca/huron-county-museum/

Or for more information call the Museum at 519-524-2686

This exhibition showcases the life and works of John. W. (Jack) McLaren, who fought with the Princess Patricia Canadian Light Infantry in WWI, and entertained troops at Ypres Salient, Vimy Ridge and many other locations on the Western Front with the PPCLI Comedy Company and 3rd Division Dumbells Comedy Troupe. McLaren was also an associate of the Group of Seven at the Arts and Letters Club Toronto, and a talented artist and writer who enjoyed successful careers as a commercial and editorial illustrator, caricaturist, advertising and promotion executive, and painter throughout much of the 20th century.Jack and his wife Lillian moved to Huron County in the early 1960s, where Jack continued to be prolific in both the visual and theatrical fields. He was elected president of the Huron County Historical Society in 1968 and designed our logo. This exhibition is in partnership with the Huron County Museum.
Below find a link to a video tour of the exhibition Reflections: The Life & Work of J.W. (Jack) McLaren running at the Huron County Museum in Goderich, produced by The County of Huron. The Huron County Historical Society wanted to feature Jack in a way that would bring long due awareness to this remarkable Canadian and Huron County resident.
As the idea evolved, it became clear gallery space would be required to best show his work and tell his story so a partnership with the museum was born.
The video features: Huron County historian and author David Yates, Shawn Henshall who is married to Jack's great granddaughter Kelly and who has authored the book The Forgotten Legend (Friesen Press 2020), Susan Glousher and Mary Gregg, Directors of the Huron County Historical Society and Sinead Cox Acting Senior Curator of the Huron County Museum.
Absent is Dr. Michael Gregg. Michael is with the Department of Archaeology at the University of Toronto. He led the research and wrote the text for the interpretive panels you will see at the museum and secured institutional loans for the show. He also led the HCHS through over a dozen boxes of Jack's extensive reference files in the Huron County Museum archives to uncover a plethora of examples of his creative process, inspiration, advertising mock ups and far reaching connections a few examples of which you will see in the glass cases in the gallery and are described in the video.
This 27 minute video is a great primer to watch before and after seeing the show. We hope all who visit come away inspired and enlightened by Jack McLaren's life and work.
https://www.youtube.com/watch?v=gU94jq3J-x0
---
November 2020 Newsletter
A Tribute to Jack McClaren
James Harrison White examines Sadra Orr's book 'Grand Bend to Southhampton'
Lots to do this winter...

Click here to download the November 2020 Newsletter in PDF format.
Join us for the HCHS Annual General Meeting in September
We are planning to hold our COVID19-postponed Annual General Meeting on Wednesday, September 23, 7 p.m. in order to satisfy our corporate and charitable status requirements by audio–video conferencing using Zoom. The popularity of this new way of holding meetings and group communications is both convenient and, for some members who live further away, may be the first time they can take part in the Annual General Meeting without all the travelling involved. One of the main items on any AGM agenda is the slate of officers. We are a small friendly group who share the work to make the load lighter for others. Vicky Culbert is standing down as president. She has been very active and has set us on a course to be more in the public eye. Graham Booth has stepped down as director, and with his solid suggestion of creating banners, and Vicky lining up locations at local fairs, we were headed into a much needed public awareness campaign. While the summer is slipping by and all of the events we were to attend have been cancelled, we still have the basic blueprint to follow to get us back into the swing of things when safe to do so.
If you would like to virtually attend the AGM on September 23, please contact Ralph Laviolette to register and get set up with a link.hchs1965@gmail.com

Click here to download the August 2020 Newsletter in PDF format.
Rescheduled: Trek to Bruce and Grey
Huron County Historical Society is Hosting a Bus Tour
Trek to Bruce & Grey Bus Tour Scheduled Spring 2021

We are still hoping to make this bus tour happen and we are hopeful with more and more businesses opening up is a good sign for us.
David Armstrong 519-524-1156 davidarmstrong@hurontel.on.ca
Cancelled: The Victorian Tea for May 23 sponsored by the the AMGH Foundation, Goderich that we told you about last newsletter has been totally cancelled.
We hope it will be scheduled for next year. It promised to be a wonderful event that would appeal to so many.
Step Back in Time, A Victorian Event
An immersive event includes admission and activities at three unique locations!
St. George's Anglican Church - Victorian Tea and International Bayfield Croquet Club demonstartion on the lawn
Huron County Museum - One woman play featuring Colleen Maguire and access to the Victorian Apartment
Huron County Gaol - Infantry School Corps will be performing exercises in the courtyard
Consult the NEWSLETTER section for other upcoming events and meetings or click below.

March 2021 Newsletter

February 2021 Newsletter

January 2021 Newsletter

December 2020 Newsletter

November 2020 Newsletter

August 2020 Newsletter

June 2020 Newsletter

April 2020 Newsletter

March 2020 Newsletter

December 2019 Newsletter

November 2019 Newsletter

October 2019 Newsletter

August 2019 Newsletter

Spring 2019 Newsletter

Page Top